Your Complete Roofing Specialist
Metal and Shingle Roofing
Guilford's is an installer of Rare Manufacturing Inc. metal roofing shingles. All of these products have a Kynar finish and come with a lifetime warranty. They are offered in a wide variety of colors.
Rare Manufacturing Inc. offers four different profiles of their metal shingle – Ironwood Shake, Heavy Shake, European Tile and Slate.
Why consider using investment grade metal roofing? Here are some reasons:
Lightweight: 50-70% lighter than a traditional asphalt shingle roof. Decreases load on roof with snow build up.
Resistance: Most resistant roofing material to fire, hail and wind.
Energy Efficient: You can typically expect to save 20% a year on heating and air conditioning costs. Metal roofs have up to 50% more reflectivity. This keeps your home cooler in the summer. Quality metal roofing meets the federal governments Energy Star Program.
Lower Insurance Costs: You are eligible to receive a discount on homeowners insurance in Michigan through certain carriers. This further repays your investment.
Color Choices: Metal roofs are offered in a wide variety of colors. This gives a home greater eye appeal. Architects are demanding metal roofs on their commercial projects because of the inherent good looks of metal.
Water Tightness: Metal roofs have much greater water tightness then traditional roofing. This greatly reduces the chance of mold.
Save on Tear Off Costs: Most metal roofing can be put on over existing roofing.
Color Variety: Several Colors to choose from.
Long-Term Warranty: Our major shingle brands come with a 30-50 Year Warranty.
Metal roofings styles are not limited to the standing seam metal roofing profiles of many commercial buildings, barns, and farmhouses of yesteryear. Metal roof styles include shingle profiles that resemble cedar shake, dimensional / architectural roofing shingles, european or clay tiles and even slate roofing.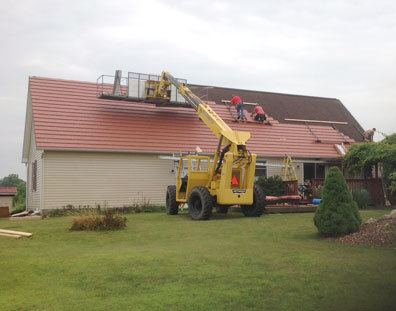 How Do I Choose the Best Metal Roofing Style?
Metal roofing styles are chosen to suit the architectural style of the building. Although standing seam metal roofing profiles look great on many residential homes, agricultural buildings and commercial buildings a wood shake style (view Guilford's Ironwood shake metal roofing profile) may look best on a craftsman style home and Guilford's Ironstone Slate may be the solution to achieve a sleek, smooth roof line, for a modern style building. Each metal roofing style can achieve a completely different look when applied.
Regardless of metal roofing styles or metal roof profiles you choose the result will be a striking, attractive and roof that will impress for a lifetime.
Following are examples of metal roofing styles from completed metal roofing installations by Guilford's Metal Roofing team throughout mid-Michigan. Please note: Our metal roofing team are trained and experienced metal roofing installers in the Lansing area – they are not photographers… hopefully you get the idea!
Metal Roofing Styles – Cedar Shake, Wood Shingle Style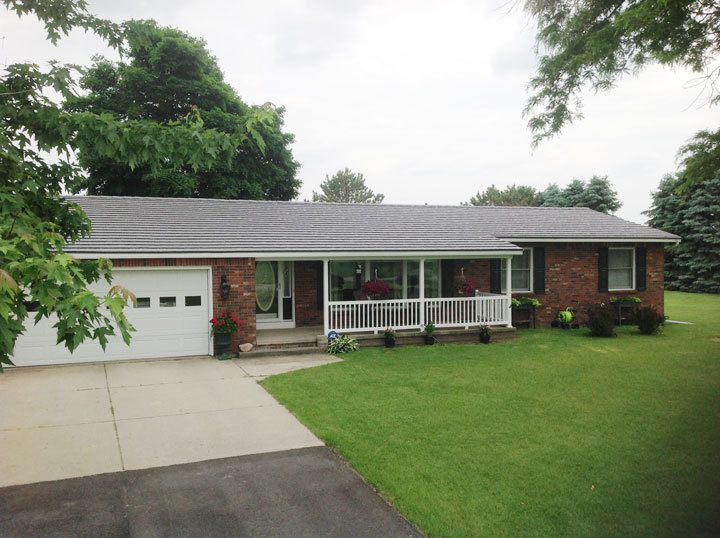 Ranch style home in Mulliken, Michigan with shake style metal roofing profile.
Rear view of updated ranch home with brown shake metal roofing shingle profile. What an amazing and instant transformation this metal roofing installation made for this traditional ranch style home.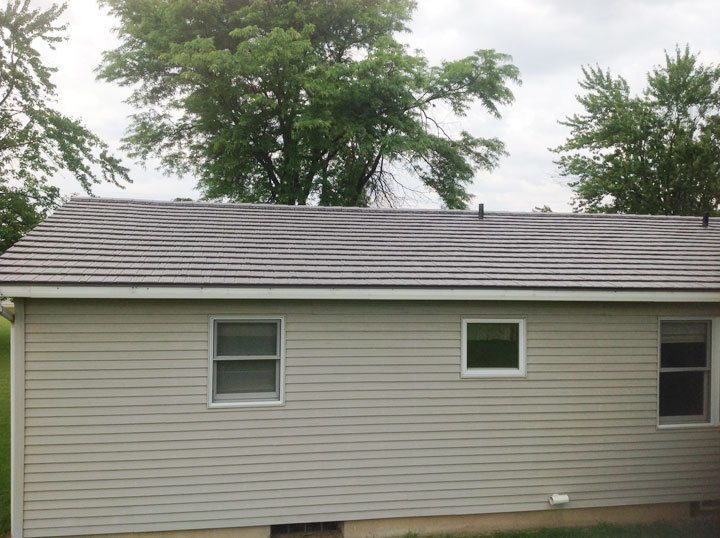 Metal Roofing Styles – Standing seam style metal roofing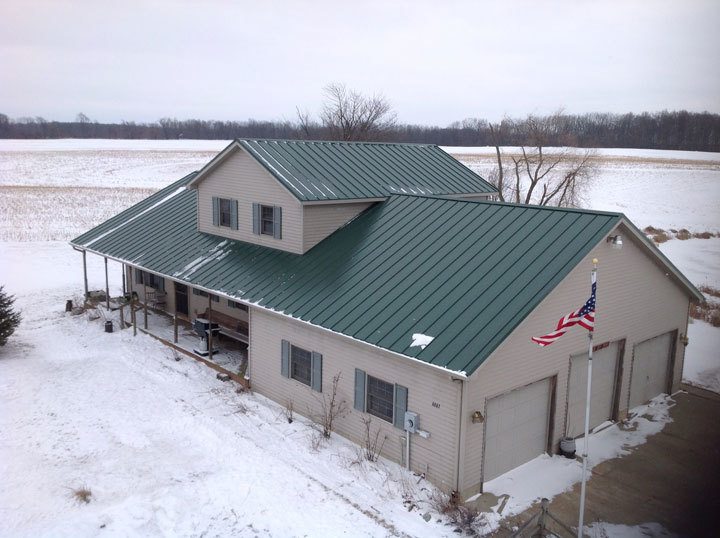 Standing seam style metal roofing is a very popular profile for it's smooth and simple design. The clean style of a standing seam metal roof goes well with many architectural styles in both residential homes and commercial buildings and agricultural buildings including traditional barns, pole barns and outbuildings.
Guilford's Metal Roofing also installs metal roofing styles on commercial buildings in Lansing and surrounding areas. The following sample photo is an installation Guilford's Metal Roofing team completed for an existing retail store in St. Johns, Michigan. Guilford's Metal Roofing can install commercial metal roofs to existing commercial buildings or metal roofing for new commercial construction. Call us today to protect your investment and reduce maintenance and repair costs of traditional roofing installation options.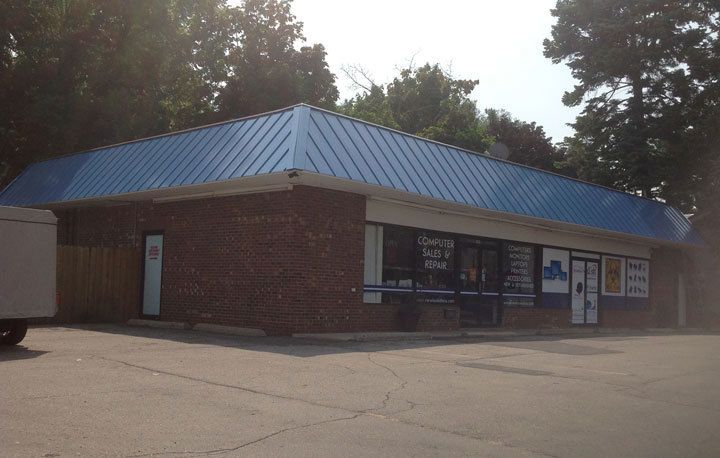 The beauty of metal roofing styles shows best when you are able to view first hand the textural quality of this durable, three dimensional material. When you schedule a free metal roofing estimate remember to let us know what metal roofing styles you are considering and we will do our best to bring actual pieces of the metal roofing styles to our on-site meeting.
Schedule a metal roofing estimate today!
Asphalt Shingle Roof Options
Unlimited colors
variety of warranties – Guilford's recommends a minimum 30 year asphalt shingle roof warranty
Guilford's recycles asphalt shingle tear off to save from landfill construction bloat
Whether you choose metal roofing or traditional 3-tab or architectural profile asphalt shingle roof we have an option that will suit your needs. Please take a look at the samples throughout our website of the roofing projects we have completed
All services by Guilfords, LLC are available for installation in the entire mid-Michigan. Guilford's exterior experts have been installing asphalt shingle roofs for over 30 years in Lansing, Holt, St Johns, Ionia, Lowell, Okemos and Charlotte, Michigan areas.
Contact us today to schedule a roofing consultation for your home or commercial building.
Interested in getting a quick quote?
Metal Roofs vs Shingle Roofs
Roof Type
Pros
Cons
Asphalt Shingle Roof

accepted, proven, trusted material

easy to install, limited training

variety of product quality levels

susceptible to severe weather
Roof Type

Pros

Cons

Metal Shingle Roofing

sound, proven, durable, long lasting

extreme-weather performance

reduction in insurance premiums

extreme expansion and contraction

can have a harsh appearance

product selection important for best performance

* some metal roofing products have not met the energystar rating compliance
Asphalt Shingle Roof Options
Fill out the form below and we will happily contact you to schedule your estimate.