Gutter Installation and Repair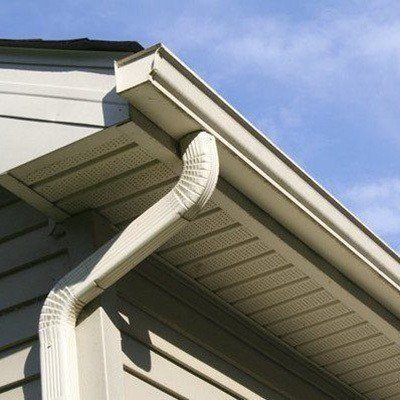 GUTTERS PROTECT YOUR HOME FROM WATER DAMAGE
You know you need gutters on your home, but do they really make a difference? In short, yes! Your gutters are responsible for moving water runoff from your roof away from your property in order to keep it from collecting on your property. If your gutters are cracked, clogged, or falling off the side of your home or business, they can't do their job properly, and your property may be at risk for dangerous and potentially expensive water damage. Contact Us Now!
INSTALL GUTTER GUARDS TO PROTECT YOUR GUTTERS FROM LEAVES
Cleaning out gutters is a miserable, messy, stinky job. Installing gutter guards could put that headache behind you, but how are you supposed to know which type to buy? Guilford's Gutters offer the best in Gutter Guards:  Evelyn's Leaf Solution and Black Diamond Premium Screen.  They can lessen the amount of labor and possibly prevent unnecessary falls. Contact Us Now!
Most people don't realize the importance of gutters and the proper installation of them. Water can be a slow and destructive force to any residence and over a period of time can cause major damage to your foundation, siding, doors, windows, fascia, soffits and decorative landscape. It is critical that the gutters are properly installed and of quality material.
Professional and Dependable
Professional installation and high quality materials are the key to making certain that your aluminum rain gutters have a long and healthy lifespan and that your home or multi-family property is properly protected from water runoff. We at Guilford's Gutters pride ourselves on prompt, professional service, and our skilled craftsmen understand what it takes to get the job done right.  Guilford's Gutters is a highly respected Michigan company.
High Quality Gutters
At Guilford's Gutters, we use only the highest quality, continuous seamless aluminum rain gutters – available in 5-inch or 6-inch widths. These 0.027 thickness aluminum gutters are equivalent to 26 gauge metal and are built to last. We use hidden hangers instead of spikes to install the gutters for a more secure facet. In addition, we can use a valley shield on the inside corner to keep water from jumping the gutter. You can choose from a wide variety of colors to personalize your guttering system.
Advantages of Seamless Gutters
Our seamless aluminum rain gutters provide multiple advantages:
Protects your foundation, siding, doors, windows, fascia, soffits and decorative landscape
Seamless design looks more appealing
Use of 3x4 downspouts compared to the 2x3 size which is typically used on new installations, which will allow for double the drainage.
Extruded on-site to custom fit your home
Most installations take only one day
Variety of colors available
Protects your home for years to come
Our gutters provide you a big advantage for a small investment.
Excellent Service – Guaranteed
Guilford's Gutters offers a unique blend of quality customer services. Our courteous, well-trained experts are dedicated to providing every owner with a positive seamless gutter installation experience and will work with you to make sure that the job is completed to your satisfaction.
Protect your greatest asset, your home, against the elements by contacting us at (517) 649-2344 to obtain a no-obligation quote, or fill out our contact us form.
Why Rain Gutters are Important for Your Property
Leaky, broken, or poorly installed gutters are a hazard to your property. They can cause water to pool on your roof, which can cause significant damage to roofing material and facia. Lack of or improperly maintained gutters can also let rain water collect around the base of your residence, resulting in foundation or landscape damage, rot, and flooded basements.
Your property is valuable, and you want it to remain structurally sound and looking great for many years to come. Don't neglect the importance of having a quality gutter system that is installed by our professional, reliable guttering team. Find out why our seamless aluminum rain gutter systems are better, and receive a FREE quote by filling out our online form or contacting us at (517) 649-2344.
Many colors are available to complement the look of your home.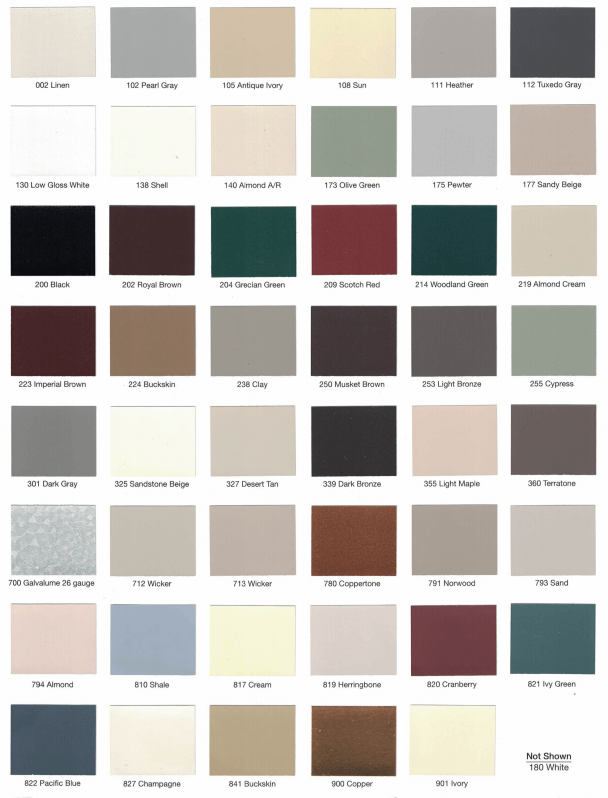 Don't delay – protect your investment by ensuring it is properly guttered.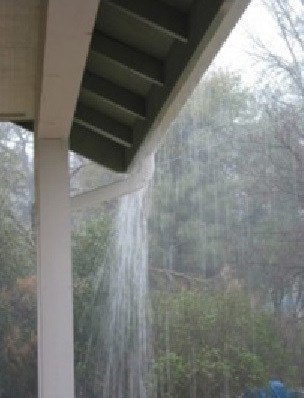 Michigan rain gutters put up with a lot – strong winds, heavy rains, hail and more. Failing to correct a rain gutter problem when it occurs can be damaging to your property and reduce its value. And, repairs not completed by a qualified guttering company can cause further problems and frustrations.
Guilford's Gutters Reliable Gutter Repair Solutions and Benefits
Re-hanging loose rain gutters : Keeps gutters functioning properly, allowing water to flow accurately.
Repairing and replacing cracked or damaged gutters : Ensures water flows directly into gutter – keeping facia dry and protected
Redirect downspout away from home: Maintains a dry area around your foundation and prevents leaks and flooding
In the event of damage to your rain gutter system, Guilford's Gutters can quickly fix your system and make sure that it is functioning properly. Should the damage be irreversible we can quickly install new continuous seamless aluminum gutters at your convenience.
Wouldn't it be better to install a solution that GUARANTEES you'll never have to clean your gutters again? At Guilford's Gutters, we feature 3 different solutions to ensure just that!  Quality constructed and long-lasting protection is just a phone call away!  Call (517) 649-2344 for your free consultation.
Featuring:  The Guilford's Gutters Custom Bend Gutter Helmet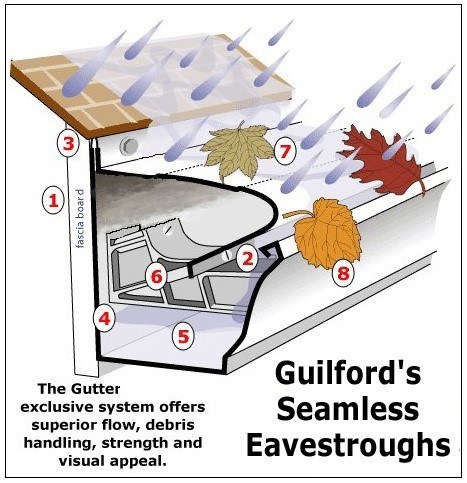 Guilford's Seamless Eavestroughs represent the highest quality in guttering. The Gutter exclusive system offers superior flow, debris handling, strength and visual appeal, all at a price that's affordable and cost-effective for those home-owners who want a low-maintenance product that will last and continue to look good for many years to come.
Financing, great rates available.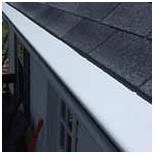 Protect Your Gutters with Gutter Guards
Gutter guards work by shielding the top of your gutter while leaving room for water to enter, eliminating the need for you to have to do hazardous cleaning. Leaves, pine needles, twigs and other large debris cannot enter the gutter; this prevents clogs and ensures that debris cannot damage your gutter improve the current curb appeal of your home or multi-family residence.
Featuring:  Evelyn's Leaf Solution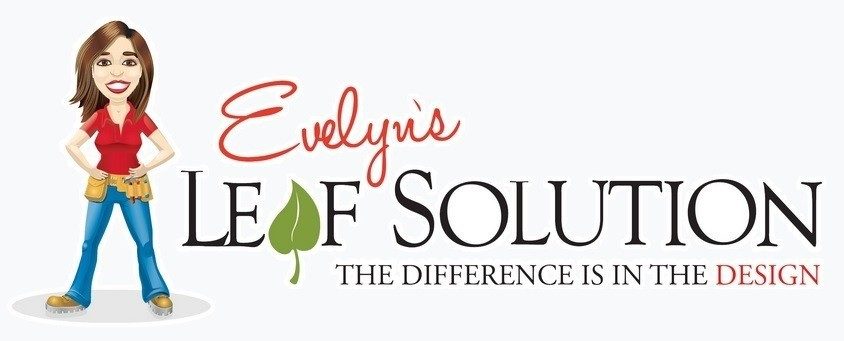 Custom-engineered 440-micron, stainless-steel mesh features holes large enough to maximize water flow, yet small enough to block shingle grit. The patented triple-dip Capillary Diversion System captures ALL rain water, even torrential quantities, forcing it into the gutter. The mesh is then integrated, vertically AND horizontally with a durable substrate, and assembled using a patented hemming process that prevents separating, sagging and stretching.
Low-profile LeafSolutionPRO is easily installed under the shingle, at an angle to hide it from sight and maximize the self-shedding of debris.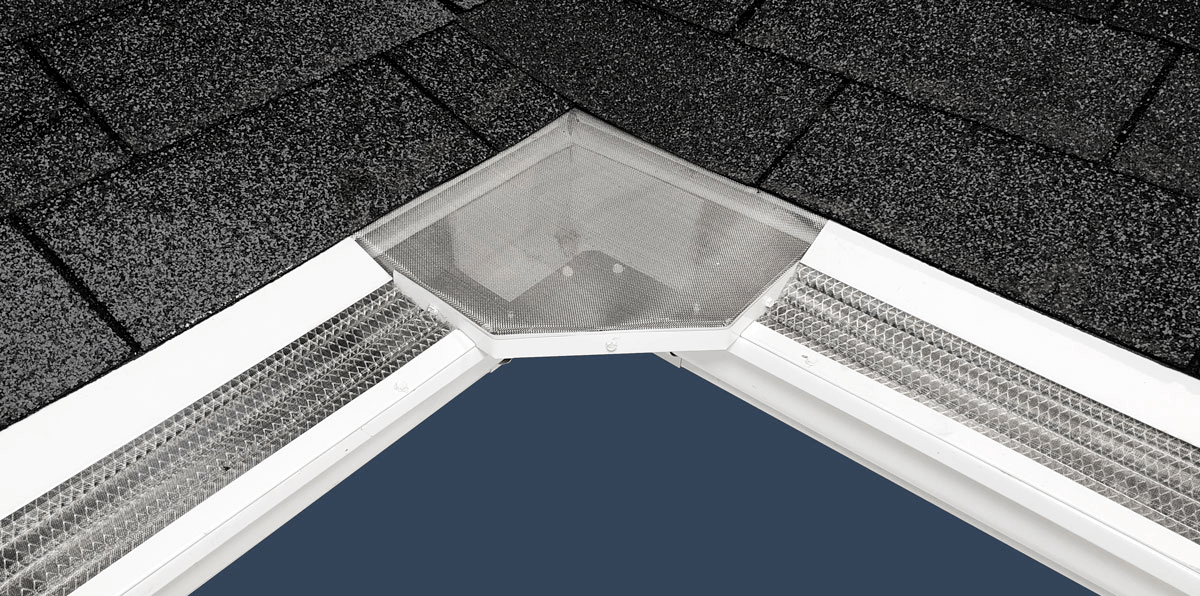 Featuring:  Black Diamond Premium Screen
Black Diamond Premium Screen is 0.032 expanded aluminum with a black powder coated finish.  This comes with a hole size of 1/8" and 3/16" to keep all foreign debris from your gutters.  Solid construction, strong and durable, this premium screen is an attractive and reliable solution for years to come.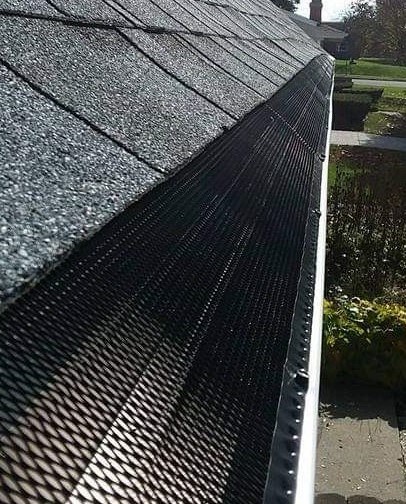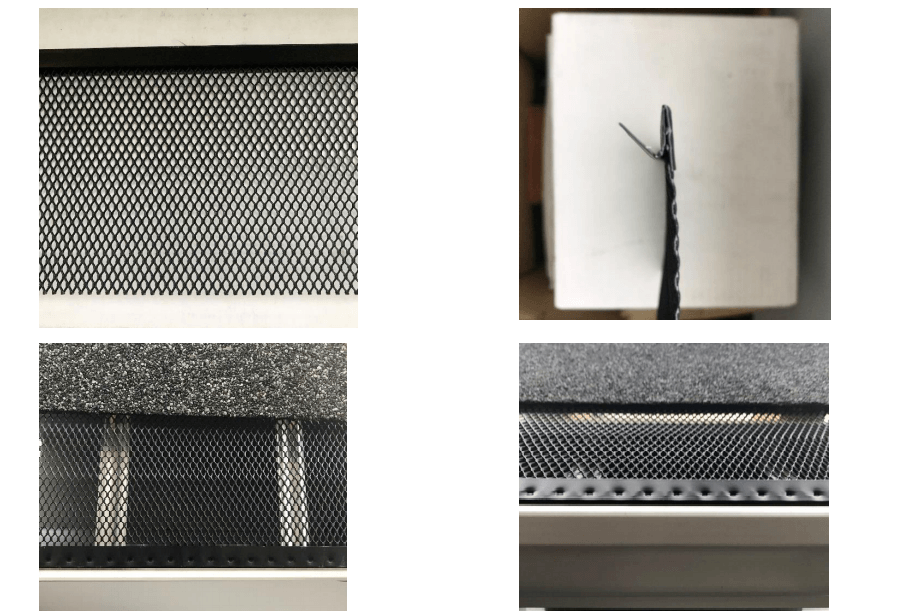 FREQUENTLY ASKED QUESTIONS
Q: Why do you need gutters at your home, business, or apartment?
A: Gutters protect the foundation of your house or building from rainwater. If rainwater seeps inside the foundation, it can make your house collapse down. Many insurance companies do not cover this type of damage. Therefore, investing in gutters today will keep rainwater far from the foundation, saving you money.
Q: What gutter services does Guilford's Gutters offer?
A: Guilford's Gutters provides gutter cleaning, maintenance, installation, and repair services. We also customize seamless gutters.
Q: What type of gutters does Guilford's Gutters install?
A: Guilford's Gutters installs 5" and 6" seamless gutters, and gutter guards: Evelyn's Leaf Solution stainless steel mesh and Black Diamond Premium Screen-Black Powder-Coated Aluminum and our custom bent Gutter Helmet.
Q: How does Guilford's Gutters install gutters?
A: The well-experienced professionals at Guilford's Gutters pull up the dripedge very carefully. Then, the gutters are drilled with special hangers into the fascia board. Finally using a level, we make sure that the gradient is accurate, so the rainwater drains the right way to each downspout. Once every job is complete, we will wait for it to rain and then contact you to make sure that the gutters are working well and you are satisfied with the job.
Q: How does Guilford's Gutters repair gutters?
A: Guilford's Gutters will first examine the existing gutters to see what is working efficiently and what may need repair or replacement.  We also check every joint to ensure that they are sealed correctly.  In some situations, we may re-secure your gutters with new hangers. Gutters may also need to be replaced if damaged beyond repair.
Q: Gutters are clogged all year long. How many times do gutters have to be cleaned?
A: Gutters should be cleaned many times throughout the year.  Depending how many trees are around your home, debris can build up in your gutters quickly.  It is important to ensure your gutters are working properly so water does not back up and water is efficiently channeled away from the foundation of your home.  If your gutters back up often, it is a good idea  to have  gutter guards installed.  We offer Evelyn's Leaf Solution stainless steel mesh and Black Diamond Premium Screen gutter guards and our custom bend Gutter Helmet to solve this problem!
Q: How does Guilford's Gutters clean gutters?
A: Guilford's Gutters hand cleans all gutters. Once all cleaning jobs are complete, we pack up all the trash in trash bags and blow the roof. We inspect the gutters from top to bottom to ensure they are properly cleaned and are not clogged. Once completely cleaned, we would then install a leaf protection to your gutters to prevent them from being clogged again in the future.
Fill out the form below and we will happily contact you to schedule your estimate.